Do your shipped features have the desired impact on your business metrics?
Too often we start product delivery for a feature, i.e. to build scalable, well-functioning software, before we've (1) explored a range of product ideas, and (2) de-risked the feature.
But how do we do product discovery?
And how can you involve your collaborators and stakeholders in discovery through a well-run product discovery workshop?
Table of contents
Why do product discovery
How to do product discovery
A workshop template: Brainstorm product opportunities and solutions
Create your own
Why do product discovery
Product legend Marty Cagan writes beautifully about Discovery vs. Delivery. He describes how discovery is about figuring out what the solution is, and delivery is about building a robust and scalable implementation.
Discovery and delivery can be at odds, because discovery requires rapid iteration while delivery takes time. So we need to separate between the two processes, and use discovery-specific techniques for discovery.
How to do product discovery
First, we assume you're already aligned on the vision and the key metrics you need to drive. If not, take care of this now.
For each business metric (e.g., reducing onboarding time, increasing engagement, or increasing retention) you want to drive, brainstorm lots of different product ideas for how to improve the metric.
Do some preliminary assessment of the ideas based on expected impact
De-risk the most impactful ideas through discovery techniques.

Particularly remove the Four Big Risks:

value risk (do people want it?)
usability risk
feasibility risk
business viability risk

Discovery techniques include conducting user interviews, introducing buttons or landing pages and measuring whether people click without yet having built the feature, creating a technical proof of concept to reduce the feasibility risk, doing usability tests on a mockup, etc.

A workshop template: Brainstorm product opportunities and solutions
Interactive workshops engage your collaborators and stakeholders, so you bring out their expertise and get their buy-in.
This workshop is about brainstorming product opportunities and solutions together with your collaborators. "If you want to have good ideas you must have many ideas. Most of them will be wrong, and what you have to learn is which ones to throw away," said Nobel Prize-winning Linus Pauling.
Still, we tend to get attached to whatever idea first comes to mind, or whatever idea we know the most about. This is exactly why you want to bring your team and stakeholders with you to brainstorm broadly before you narrow down on a select few ideas.
We recommend structuring your ideas as opportunities and solutions, as Teresa Torres writes about.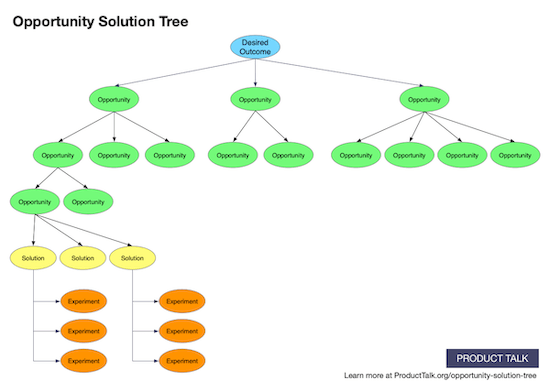 Ready to get started?
Use this <u>workshop template to brainstorm product opportunities and solutions</u><u>.</u>
Create your own
Want to run a different type of interactive workshop?
Get started to create your own, using drawings, word clouds, polls, open questions, and more.