The complete guide to Social Emotional Learning (SEL) including engaging activites
The research is clear: SEL makes a difference. It has positive impact on academic performance, healthy relationships, mental welness and much more. As a teacher, preparing your students with the right SEL skills should be one of the top of your priorities.
What is SEL?
SEL is short for social and emotional learning, and refers to a broad variety of skills, attitudes, and behaviors that can influence a student's academic and personal success.
The SEL skills are typically the skills not measured by tests such as critical thinking, emotion management, conflict resolution, teamwork and decision making. Even though they are difficult to measure with test, they are of great importance, and they may help students complete their education and have an influence on their academic performance, employability, self-esteem, relationships, and civic and community participation.
Social emotional learning skills are parts of what the UN defines as the 21st century skills.
Social emotional learning curriculum
States make their own definitions of SEL, and determines if SEL should be a part of the curriculum, and if it is, for which grades. Most states have standards for SEL for preschool, and more and more states are making standards for the later grades as well. Here you can find the standards for New York, Virginia and Washington.
7 social emotional learning activites
In general, the curriculum or standards for the different states cover the same skills which are self-awarness, self-management, social awarness, relationship skills and responsible decision-making skills. The activites you find in this guide are made based on the standards provided by the states of New York, Virginia and Washington for K-5 and will continiously be updated with new SEL activities and lessons. Here are our favorite 7 SEL activites:
Introduction to growth mindset
Make class rules together
Who are you as a person?
Learn about emotions
Identifiy personal goals
Identify who can support you
Quick poll: What is your mood for learning?
1. Introduction to growth mindset
Set the students up for success in their social emotional learning by helping students to cultivate a growth mindset.
A growth mindset is an approach to life in which the students believe that their talents, intelligence, and abilities can be developed further. Students with a growth mindset seek opportunities to learn and gain new skills.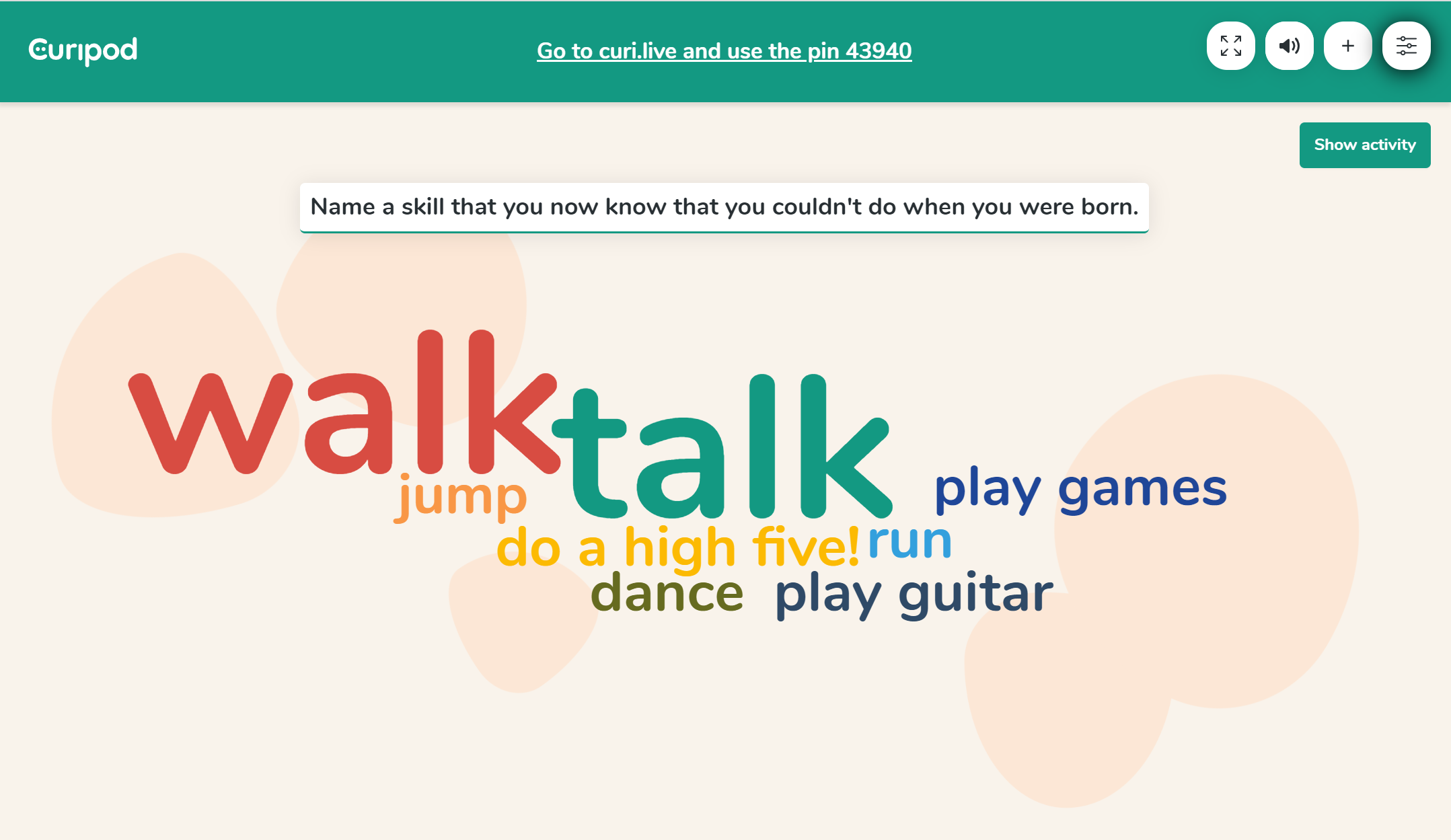 This lesson is a great introduction to growth mindset where the students get the chance to reflect around growth mindset, their skill development, how they feel about mistakes and how they can handle them. A perfect start for SEL!
2. Make class rules together
Another way of setting the students up for success is by making a set of class rules so everyone thrives and learns. And why not use the chance to let students try their responsible decision making skills and self-awarness and relationship skills by making the class rules together? Not only is it a perfect chance to use the SEL skills in practice, but when the students have been part of making the class rules they feel much more respoinsible for following them.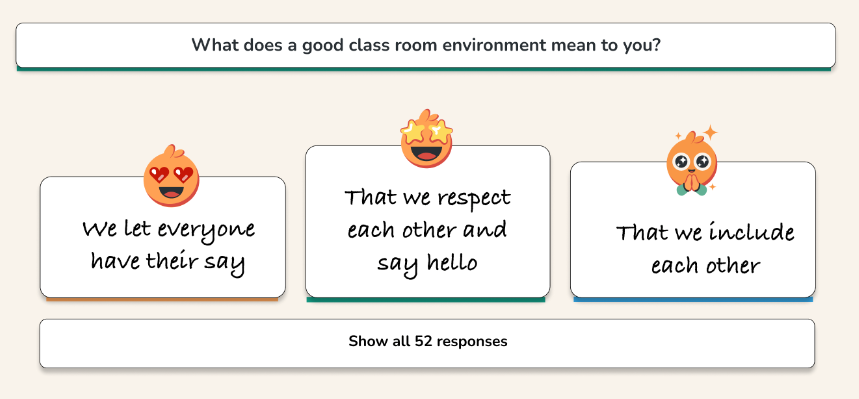 You can plan your own lesson where you make the rules together, or you can use this Curipod template where everything is ready to go.
3. Who are you as a person?
Letting the students reflect around who they are, what are their likes and dislikes, and what are their strengths and challenges is an important part of the development of the younger students. Using this Curipod template is a great way to engage everyone in this.
4. Learn about emotions
What emotions am I experiencing? And what emotions are my class mates experiencing? What do I do when I am angry? Recognizing and describing how you feel, how others feel and how you act when you have a feeling is a process. This Curipod lets your student reflect on these qustions, and have some fun at the same time!
5. Identify personal goals
It's not only Bart Simpson who might need to reflect on his life goals.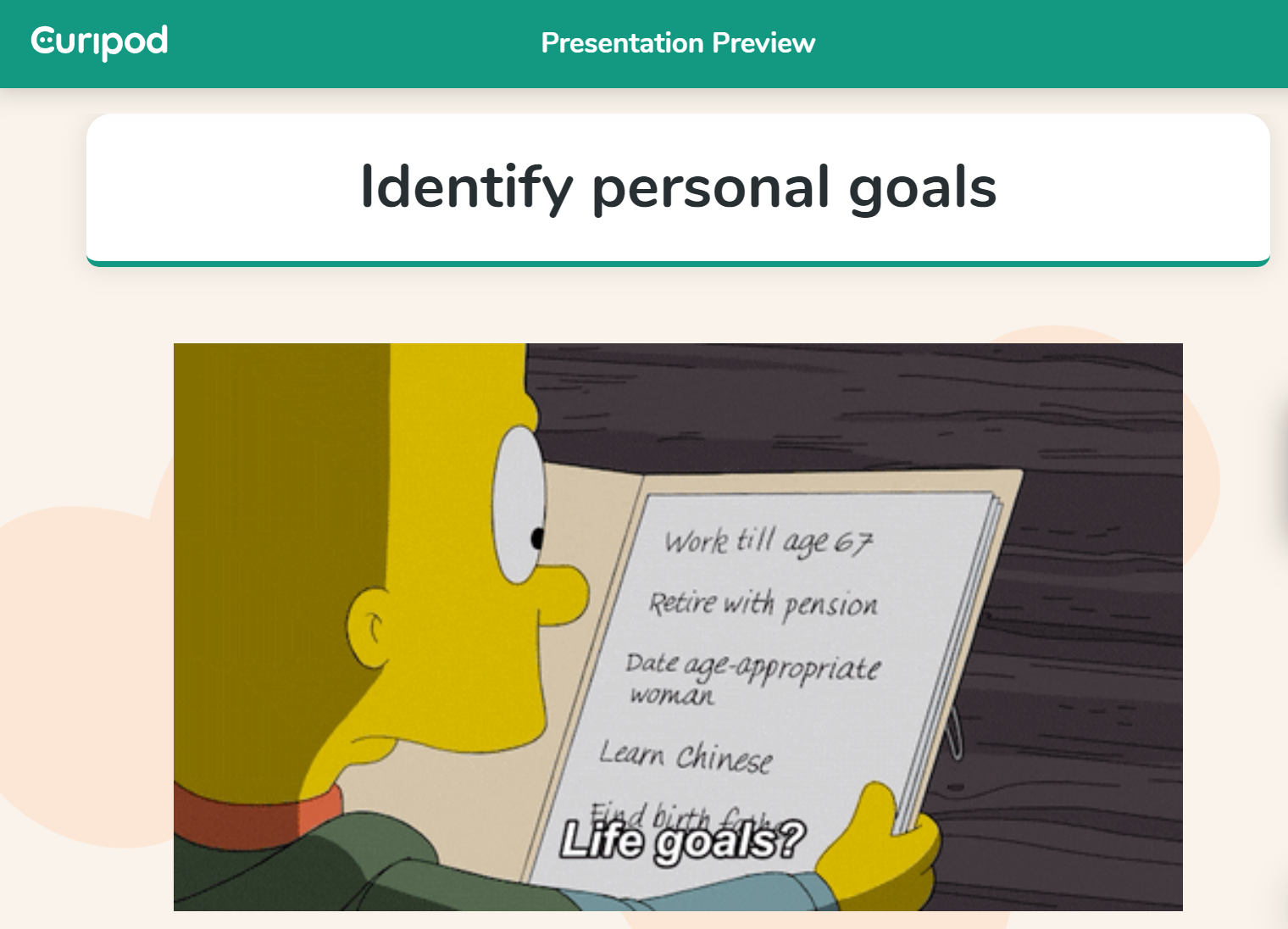 Students should be given time to identify goals for personal behavior progress, achievement, or success. The goals might range from learning a new skill, be nice person or something else. Here is a ready made lesson for this.
6. Who can support you?
We all need help sometimes. Understanding who can support you and how to ask for help might seem simple for an adult, but might not be straight forward for a young student. This lesson is perfect for discussion this SEL skill in your class.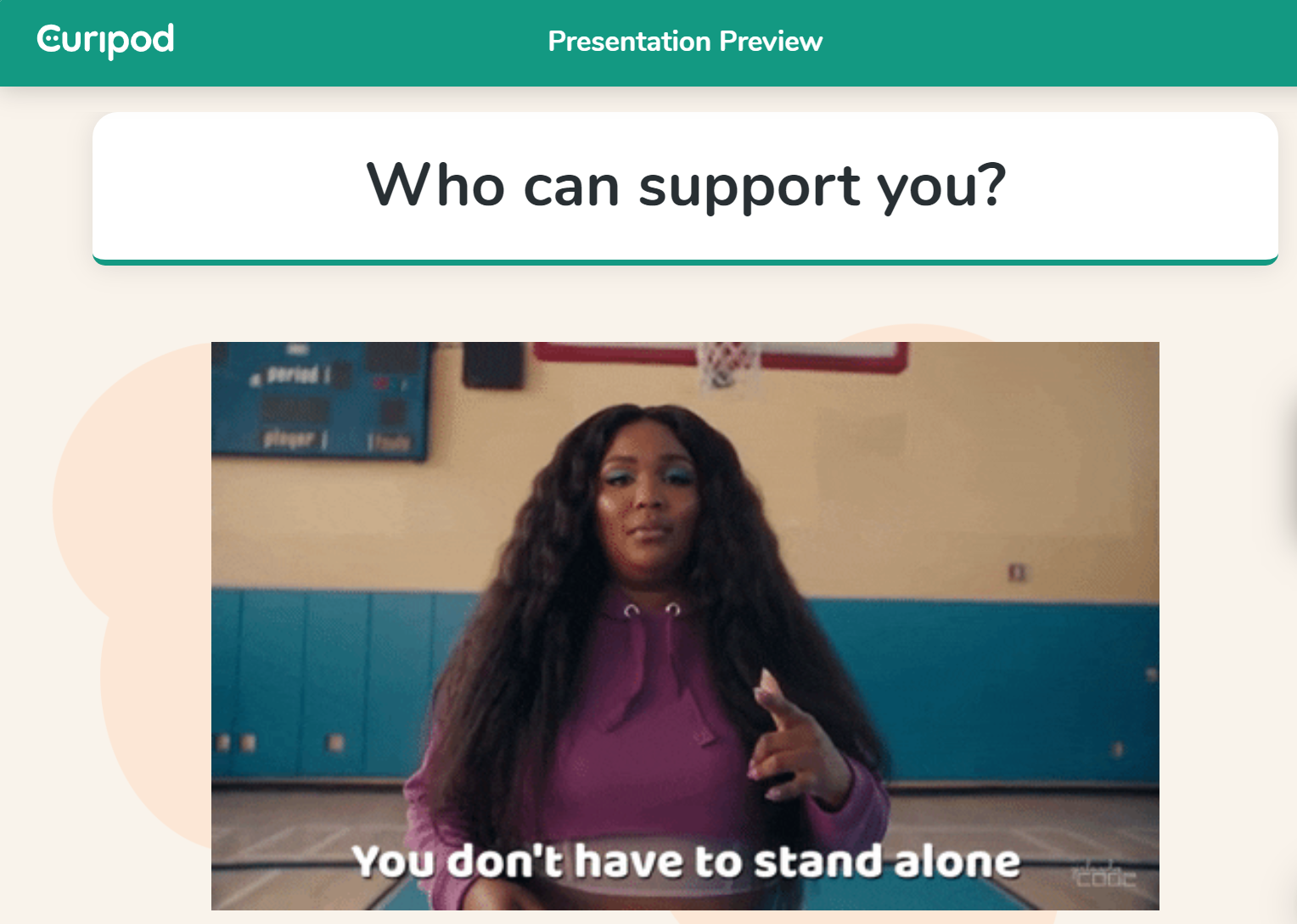 7. Quick Poll: What is your mood for learning?
This quick poll asking students what their mood is for learning encourages self-management, which is one of the key elements of SEL. Both teaching and learning are supported through this immediate feedback loop. This question is specifically effective just after a quick learning break.
Other resources
Do you want to learn more about the science behind social emotional learning? These resources are a great place to continue your learning journey: